Learning @ Nature / Wild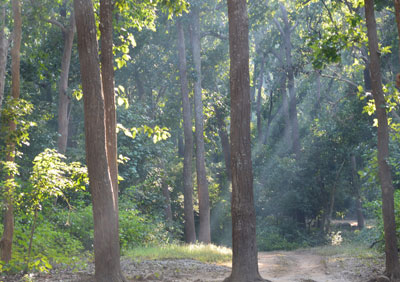 Where is the spread sheet? No business plans! No power point!

The power points have been overshadowed by woods, spreadsheets sink in the rapids and leadership's lessons are being given by his majesty royal Bengal tiger!

Here comes our Learning @ Nature / Wild our corporate outbound learning module, designed to address some most sensitive behavioral issues in the organizations.
Outbound Trainings
Outbound training has long been identified as being a part of experiential educations and it really helps boost physical, mental and emotional development.

The methodology is experiential and gives participants the advantage to appreciate each other in an uncommon and stress free environment. Participants work individually and in groups and perform certain physical activities which uncover hidden potentials and test limits.

We at CSDT are experts in setting up a unique fun filled learning experience through outbound training modules for corporate, PSUs and educational institutes. The outbound training workshops are very high energy programs for enhancing individual and team performance. Through these outbound management programs skills improvement takes place in the areas of teamwork, team bonding, communication, leadership, time management, problem solving, decision making, motivation, change and personal development.

Corporate team building programs or outdoor training management development workshops boost organizational performance through experiential learning. The outdoor activities create an effective learning platform and challenge for the individual and the team. The adventure and exercises promote self-discovery and a powerful insight into one's own and team's work styles and behavior.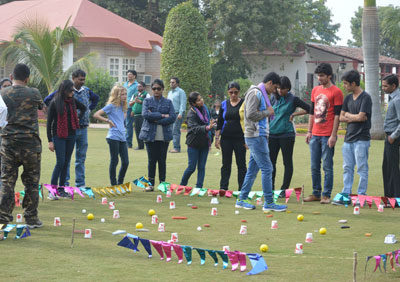 The debriefing sessions at the end of each team building training activity helps in reflection, retention and internalizing of concepts. Our trainers help participants to co-relate the learning from these outdoor activities to workplace issues.

The natural environment and outdoor activities add to the fun quotient of the outdoor training, team building program which help in acceptance and participation and also openness to risk taking, moving out of comfort zones, experimentation, receiving feedback and adapting change in behavior.

CSDT provides a variety of customization options for tailoring the outbound training programs and outdoor teambuilding workshops and services as per specific expectations of the client. Normally, each corporate team building program is formulated after the corporate trainers conduct a TNA (Training Need Assessment) and ascertain the gaps between objectives and performance.

You can choose training delivery option and workshop duration. The outdoor programs can be conducted at our campus at Jim Corbett National Park or at any of our recommended out-location destination like Manesar (NCR Delhi), Ranthambore National Park, Rafting Camps (Near Rishikesh), Morni Hills (near Chandigarh), Jaipur, Agra, Shimla or a destination of the your choice.